Bonuses at 888 Poker: what the popular room offers
On the official website of the room you can read about all 888 Poker bonuses. In our review, we will tell you about the main conditions for participating in promotions, so that you can quickly find out what privileges are available to you immediately after registering at 888 Poker. The poker room is famous for its generous offers: no deposit bonuses, promotional codes and rewards for inviting new players.
888 Poker No Deposit Bonus
The room distinguished itself from the rest when it offered new users the biggest registration bonus. This is $ 88 and will be credited to your account in 11 installments. Such encouragement makes it possible to get acquainted with the rules of the room, play at the tables and participate in tournaments without spending a single penny of your personal money. So, what conditions do you have to fulfill in order to receive $ 88 bonus:

You must be over 18 years old. This information is strictly verified. After registering on the site, you will need to verify your account by sending a photo or scan of your passport to the technical support service.
You have just registered in the room and this is your only account. This is also an important rule of the room, so if any of your friends or family members are playing from your IP address, write about it to the support to avoid blocking.
What are the parts of the 888 Poker no deposit bonus:

The first part of the bonus will go to you instantly. This is $ 6 in invitations to tournaments and $ 2 in real money to the game account.
Then you will receive 10 more bonus parts. To earn each of the parts, you need to score 250 points in the real money game. Points are awarded for wagering the rake. Each part of the bonus consists of $ 7 for tournaments and $ 1 for the game account.
An important condition: each part of the bonus is available during the day, and then expires. Therefore, at first you can be quite active in the room and then decide whether you want to continue playing at 888 Poker or look for something else.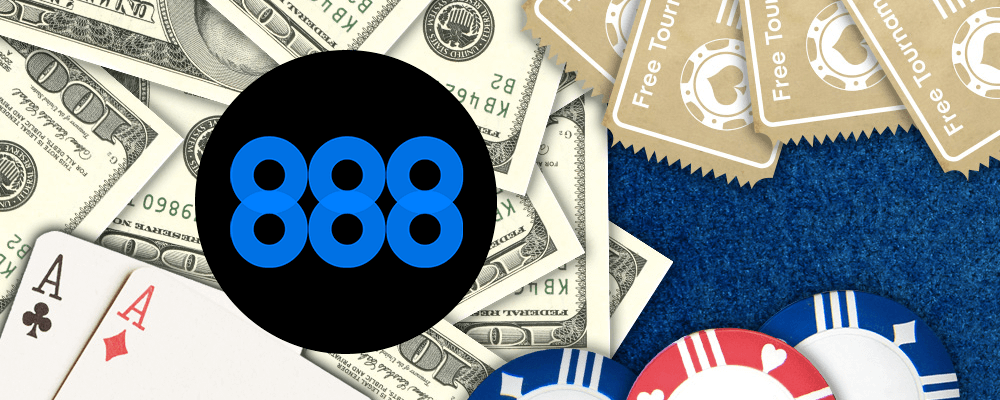 First deposit promo code bonus
888 Poker offers several bonuses for depositing real money at once. At the same time, you do not have to choose which one to use, they work at the same time.


$ 10 to the account with a top-up of $ 10 or more. Use promo code 10PLUS.
Doubling the amount when you deposit up to $ 600. Use the promo code WELCOME100.
In addition to using the promo code, you will also need to wager the rake in order to withdraw the bonus money from the account. This is done so that scammers do not use a trick to deceive the room.
888 Poker bonus tickets
In addition to real money bonuses, 888 Poker also offers tickets to tournaments... This allows you to replenish your gaming account by winning the tournament and continue playing in the room in the same way without spending much of your personal funds.

What are the options for bonuses:
Seven tickets to daily tournaments with a prize pool of $ 500.
Two tickets to the $ 1,000 weekly tournament if you've funded your account in the last five days.
A ticket to a prestigious tournament with a large prize pool for everyone who registered and made a deposit.
Bonus for inviting friends to 888 Poker
The poker room is constantly growing its user base, offering generous promotions and special conditions for newbies. Also, you can get a promotion if you bring to 888 Poker friends. If someone registers at your invitation and passes verification, you will receive:
$ 10 to your gaming account, which can be spent on playing at the cash tables.
IGoodies Free Tournament ticket for real money winnings and Apple products. You are given 3 months to participate in the tournament, after which the ticket is canceled. Do not miss your chance.
The promotion for inviting friends is limited to 100 users, and you can get $ 1000 from the room to your gaming account - this is a great bonus! But do not try to create fake profiles, it will be quickly calculated with the help of verification, and you will be permanently blocked.

You can always find all 888 Poker bonuses on the site of the room and in the newsletter, stay tuned for new information.